TOSAKI Clinic
for Diabetes and Endocrinology
Practice Subjects:
Internal medicine,
diabetes
,
endocrinology
Consultation Hours: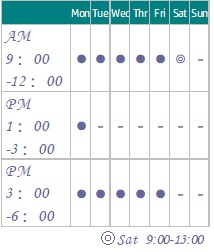 Telephone:
052-800-2333
Facsimile:
052-800-2332
Address:
2-1007, Motoueda,
Tenpaku
ward,
Nagoya
city, 468-0009, Japan

Consultation Hours


A reception desk office worker and a doctor who can speak English will help you.
You can take the reservation of the medical examination on the telephone in English, even if it is first.

From June 2014, consultation hours was changed.



Practice Subjects;


Internal Medicine, diabetes, and endocrinology


Practice;


-Comprehensive internal medicine (cold, headache, stomachache, pollen allergy, sickness, consultation on medical check results, etc.)
-Diabetes (type I diabetes, type II diabetes, impaired glucose tolerance (IGT), steroid diabetes, gestational diabetes, MODY)
-Thyroid diseases (Hashimoto disease, hypothyroidism, Graves' disease, hyperthyroidism, thyroid tumor)
-Endocrine diseases (growth hormone deficiency, diabetes insipidus, pituitary dysfunction, chronic adrenal insufficiency, etc.)

-Hypertension
-Hyperlipidemia
-Osteoporosis
-Hyperuricemia (gout)
-Chronic kidney disease
-Chronic heart disease
-Vaccinations
(All kinds of vaccinations available including flu, hepatitis, pneumococcus, carcinoma of uterine cervix, and DPT.)